Love Poems For Her
Scroll down to read poems or create your own and get a free customizable ecard
The love poems below have been created to stimulate the gentle, emotional and nurturing side of your woman. They are actually love letters from the heart. Each verse is filled with your masculine nature unafraid to show its softer side to the woman you love. A woman so disparately wants to hear that her man is in touch with the part of him that flows with her heart beat. Your woman wants to feel protected and secure with you, but she wants to be able to share a common bond with you as well. You have the opportunity to show your lady that you know how to connect with her on that emotional level. It's not your brawn that will bind you together. It's your ability to show your multiple layers to her without hesitation or fear of your boys finding out. Each verse is a love quote that takes her own a step by step journey.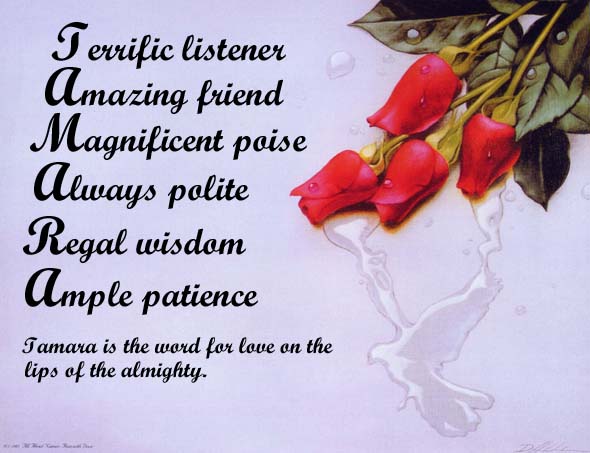 Victorious Love
I persued you with a fury known only to the gods. I captured you with bands of rapturous ecstasy. But now the captor has become the captured. Your love has snared me in a way that no vice ever could; and you make a demand on the bounty that is rightfully yours. I'm afraid for you. You ask for a heart laid bare before you; yet, the passion that I have for you may be all consuming if it's ever unbridled. So be certain of what you ask of me. For as the scorched earth cannot be undone; neither can the elements that fervently burn be quenched once I unleash my inner self to you. In my heart I've left the shore and launched into the deep. You have all of me. I reserved nothing for returning to what once was. You are now the past, present and future of me. Drink deeply and be refreshed my love.
Here are a couple funny love poems you will like:
Raw Love I
Yo, Boo, we been kick'n it foe a minute nye, and I'm feel'n ya moe and moe. I aint try'n to come off soft, I just wanna put somethin in ya ear. You got it go'n own, so I aint gonna try and play ya. But straight up, Boo, you got my nose open fa real. Ya know what I'm say'n? As long as we ryd'n, I'm down fa whateva. I'm a be real wit cha doe. All doe the game be call'n fa me sometymes, I put that noise on paws, caws you got me on lock. And I aint try'n to play myself and lose you over some nonsense. So don't be skerd to wild out with me, caws I got choo, Boo. Dis yo world, I'm just here to make you happy. Good look'n out. Ya feel me? ©2007 Tim Taylor
Translation
Hi honey, we've been an item for quite some time now, and my feelings for you are growing steadily. I don't want to sound like an old softy, I just want you to understand I think you've got a lot going for you. So I'm not going to try and trick you with lies. But seriously, Honey, you have captured my full attention. Do you hear me? As long as we're together, I'll support you through thick and thin. I'll be honest, though. Occasionally, friends and acquaintances try to tempt me to test the waters, but I don't pay them any mind, because in my heart, you take top priority. And I'm not going to be stupid and lose you over some childish stunt. So don't be afraid to fully express yourself when we're together, because I take pleasure in protecting your heart. It's my honor to make you happy. Thank you for supporting me, too. Do you understand me?
Raw Love II
Yo, we been down fa a minute nye, so I'm gonna come real wit it. I'm glad you got at me. Whoeva had you before me musta been trippin to let choo get away. But nye we wild'n out togetha, and I aint try'n to let nobody stick me fa my Boo. I aint gonna front. I gots mad love fa ya, kid. And as long as you wit me, I'm wit choo. And dats on da real. Ya herd me? I give big ups fa trust'n me like ya do, and I aint gonna flip on ya, caws I know I got a dime piece. No matta what, I got choo, Boo, fa real...Holla ©2007 Tim Taylor
Translation
Hi, dear, we've been a couple for some time now, so I feel I can be totally honest in expressing my feelings towards you. I'm really happy you chose to build a relationship with me. Whoever you were involved with prior to me, really didn't know what they had in you. Nevertheless, we share a special bond now; and I will not allow anyone to take you away from me, my love. I wont try to hide my true feelings from you. I'm simply smitten with you, Honey. And as long as you'll have me, I will be around, and that's no lie. Am I coming across clearly? It's very big of you to place your trust in me the way you do. Therefore, I will never take advantage of that trust; because you are a perfect ten in my book. No matter what the circumstances, I am here to support you. Tell me how do you feel about that?
You may want to go straight for the kill with romance, but your woman wants to be wooed by you. Giving her a romantic love poem will set the stage for continuous romance. You don't have to be disrespectfully graphic to get your point across. You can use the right words that say the same thing without making her feel like just a piece of meat. Your chosen love poetry for her can be serious or humorous and still have the same effect. I've included a hilarious form of love poem below that will have her howling with laughter, but will drive her into your arms. But there is also one that will unlock the raw passion that you seek from her. Your lady wants to have a man that is head and shoulders above her friends' man. She will share either of these poems and make them envious over the type of man she has.
I've stated before, there are two main things a woman likes. She likes to be felt special by her main man and she likes to laugh. So she likes a romantic and funny man. A romantic comedy wins over a sappy one any day. You get to fulfill both those desires in one act. You can take any of the poems below and have them emailed to you already typeset on a scenic background. You or she can post it to your facebook page, use it as a background screen for your PC, laptop, ipad or iphone. Or you can get the actual poem created on decorative card stock paper personalized and sent to you for framing and presentation.
If you want to edit the poems or if you have your own verses, I can work with those, too. Either way you choose it only takes 24-48 hours to get the finished product done. Not only do you get professionally produced love poems for her, you also get an awesome free bonus just for letting me help you make your loved one's day a little bit more special. You get immediate, free access to a show stopping ecard creator that lets you build the perfect personal ecard to send to her as an added gift. Just take a look at a snap shot of what is capable of this amazing ecard creator: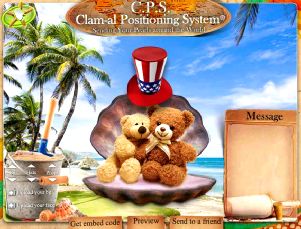 Just look at that stunning high definition image! You can personalize it to your heart's desire. It's like a GPS system of love. It's called the CPS or Clam-al Positioning System. The theme is set around a clam and its precious pearl. The difference is the precious pearl being displayed to your loved one is whatever you decide is precious enough for her caliber. You can choose the many pre loaded images or upload your own favorite images. You also get to text a message as long as you like. To make it even more amazing, you can choose different backgrounds on which your clam presents your special "pearl" or you can once again upload your own favorite background.
How's that for originality? But I'm not done yet. Each pre loaded background has a musical tune to help set the mood, but if you don't care for it, you can turn it off. However, if you have your own special background, you can upload your own audio. That's right. You can include you guys favorite song, or your favorite saying. whatever you want. It's not some five to ten second teaser either. You can upload a whole song or message if you want to! Not even the big ecard subscription sites give you this much control.
My friend, that alone is worth the price of the poem gift itself. But you get this for free! Just for using my services to make your girl the happiest woman on earth. While you have free access, take the time and send an ecard to other friends and family and give them a laugh as well. So go ahead and make your selection by clicking on the drop down menu of the poem gift creation box below and let's make history together. The love poems for her below have headings that can be edited however you want.
Just choose which way you want your love poem for her to be made in the poem gift creation menu below and leave any instructions in the instruction box or your own poetic verses to be used. Once your order is complete, You will be given instant, free access to fully use the ecard program.