Poems About Love
Scroll down to read and create your own personalized poem and get a free customizable ecard
Women have no problem making known their desire for love poems. Though the male species wont readily admit it, they're just as smitten with a well crafted poem about love as any female. Consider all the Cds and videos of rap songs they listen to and watch. The difference is the masculine factor. A man isn't too interested in a mushy poem that's designed to make him cry or blush. Those are the kind he wants to give to his mate. He wants to be presented with a poem that will make him want to go out and slay a wild beast for you and bring the skin home to you. Verses that let him know you see him as a great protector and provider and you feel at ease opening up your secret vault to him are the ones you want to give him
You can scroll down and read a poem that's suitable for the man and one that the man can present to his special lady. Either one can be personalized and presented just as it's displayed or you can edit it to your liking. If you want to add different verses for a more personal impact, that's fine, too. I can also take your own created poem and prepare it how ever you want for presentation. Your love poem can be created in a number of ways. It can be delivered through email for downloading and sent to your loved one to be used as a background image for their PC, laptop, ipad or iphone; as well as using it to create a T-shirt, calendar, pillow or whatever you want.
A text only version is further down for ease of online reading.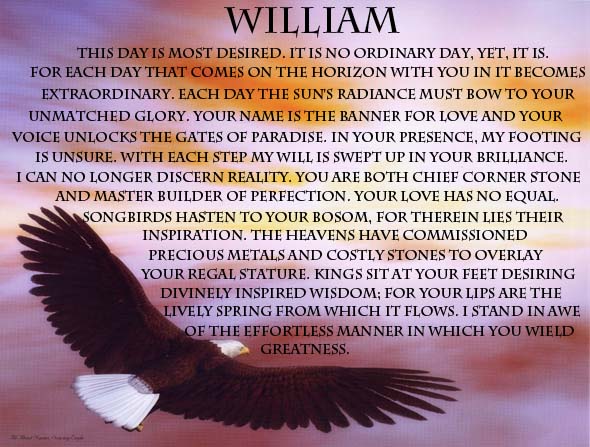 The most popular to date is getting your poem typeset on any of the stunning backgrounds personalized with your loved one's name as the heading with your name at the bottom. Either way, you're assured of a quality gift that will be cherished for years to come. As a female, you can design one to give to your partner or keep it for your self as a token of how much your man means to you. Whenever he sees it, he will be beaming with pride on the inside knowing that he has that effect on you. It will be designed and shipped within 24-48 hours.
No matter the ocassion you need a love poem for:
| | |
| --- | --- |
| | Anniversary |
| | Birthday |
| | Valentine's Day |
| | Holiday |
| | Just because |
This combination will make a great impression on the giver and receiver.
Before you read the sample love poems below, I want to go even further with helping you build a memorable poetry gift. To show my appreciation for being allowed to take part in your expression of love, I want to give you an awesome free bonus just for using my services. While others are paying for the ability to use this awesome software, you get to use it to send an eye popping ecard along with your poem. Take a look at a snap shot of what you get: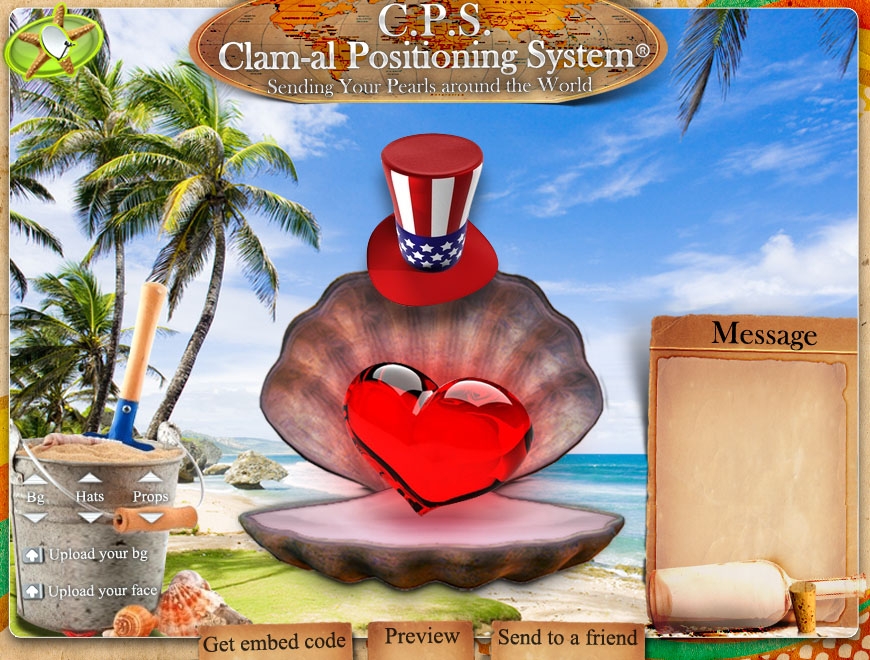 Just look at that stunning high definition floating heart! I introduce to you the GPS of locating that special place in your loved one's heart better known as CPS, Clam-al Positioning System. Yes, you get to send your heart felt sentiment in amazing true life color to family, friends or whoever. You can use the pre loaded images or upload your own. You can change the background to any of the pre loaded selections or use one from your own hard drive. You also get to text a message as long as you like to make sure your point is driven home. Everything is auto sized and centered. How's that for over delivering?
But that's not all. Each background comes with an appropriate musical sound that can be turned on or off, but if you have a favorite song or if you just want to include a personal audio message, you can upload that instead. Just think how blown away your main squeeze will be when they get this ecard in their inbox with your voice or the love song that represents your union? It's not just set to play a five second loop of your audio either. You can record and upload a whole song if you want. It's up to you. How's that for versatility? Even the big name ecard subscription sites don't give you this much control. But you get this free when you design your love poems here.
You know as well as I do that people love two things. They love to be told how special they are and they love to laugh. You get two in one with this set up. Although the clam, bucket and message field remain the same, every other part of the scenario can be changed to fit your desires. It's perfect for anytime of the year. You can send a warm, tropical getaway theme during a cold, dreary winter day or send it as motivation to get outside during a nice spring or summer day. If you're ready to pop the question, how about sending this to them first: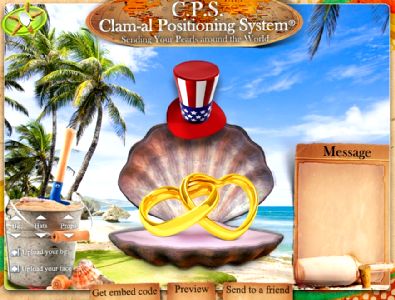 You get the total package and you also get to personalize it to boot. Poems about love will never go out of fashion, so feel confident that you're making a wise choice in doing this for your love object. Just choose how you want to create your poem and I'll get right on it. After your order is complete, you will be given immediate access to the incredible ecard creator. Act fast. This is a limited time offer. No other sites are adding this much value to your life for such a low price. You would be hard pressed to find a package like this at any price. So few people give customer service on this level anymore.
Just click on the poem gift creation menu below and choose how you want your poem. If you have any edits or your own poem, just leave them in the comments section of your completed order or send an email to: If you send an email, in the comment section of your order, be sure and let me know that I should expect an additional email to your order. Either way you choose to have your poem delivered, you still get immediate and free access to the awesome ecard creator. Thank you in advance for your trust in me.
This day is most desired. It is no ordinary day, yet, it is. For each day that comes on the horizon with you in it becomes extraordinary. At each dawning, the sun's radiance must bow to your unmatched glory. Your name is the banner for love and your voice unlocks the gates of paradise. In your presence, my footing is unsure. With each step my will is swept up in your brilliance. I can no longer discern reality. You are both chief corner stone and master builder of perfection. Your love has no equal. Songbirds hasten to your bosom, for therein lies their inspiration. The heavens have commissioned precious metals and costly stones to overlay your regal stature. Kings sit at your feet desiring divinely inspired wisdom; for your lips are the lively spring from which it flows. I stand in awe of the effortless manner in which you wield greatness. It is fit for your opulent character.
Special
I find it most gratifying to share how wonderful you are; for if I keep silent , I fear I would burst asunder from the joy that swells within me at the mere thought of you. You have profoundly affected my life. My existence is seasoned by your presence. I know not of a better soul to just sit and share with. Even in disagreements your lovely eyes and coy smile make my outer countenance a lie as they warm me from within. They beckon me to hastily make peace.
Your unselfish character is always considerate of me. Because of that, your counsel causes me to re-evaluate my judgments. My walk in life's journey has a renewed view. Because of you, I am steadily reminded of what true beauty is. Prior to knowing you, a flower was nothing more than a colorful plant. Candy was merely something to fulfill a craving. Now they bare witness to your sweetness and allure.
With earnest, I look forward to the coming years destined to be filled with glorious bliss as long as you are part of them. There can be no special day without a special person. Truly, you are that special person that makes every day special. Always know that you are loved.