Romantic Poems
Scroll down to read and create your own personalized poem and get a free customizable ecard
It doesn't matter if you're looking for romantic poems for her or him; the gender neutral love poem below can be tailored to make the perfect statement for your loved one. Even though technology has made it more rare to find face to face socializing, we all desire and see the need to take a break from texting and abbreviated wording and use a little more of the English language to let that special one know how we feel and what they mean to us. The poem below is designed to express that very emotion without being too erotic. What makes it so romantic is its playful like innocence in telling the recipient how much you need and look forward to being in their presence. The sample below is just to give you an idea of what can be done. When giving it to a male, you can choose a more neutral scene.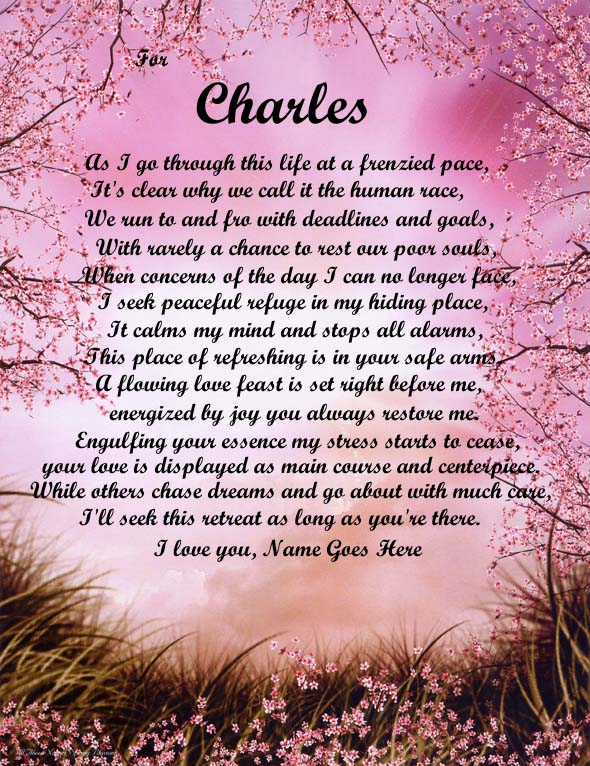 Click on the link to see more romantic poems for Men
Click on the link to see more romantic poems for women
Romantic poetry doesn't have to be focused around the bedroom. It can be just as alluring with a nod to the build up to the more intimate times. Those unassuming romantic sayings that pop up like nice little unexpected distractions within your daily routine does wonders for building healthy, strong relationships. The love poem below can be presented to your mate at any relationship level. There are some heart felt words that are best avoided until you reach a certain point in your relationship. But this one can be shared very earlier on without appearing too forward. As with all my poetry, you can personalize it with names or edit it to suit your loved one's personality.
You have the option to have a poem personalized and shipped with your chosen background or you can have it emailed to you so that your special someone can post it on their facebook page or make a unique keepsake like a mouse pad or use it as a screen image for their PC, laptop or ipad. The finished piece is only an example of what you can do to make you stand out in the heart of your love interest.
Romantic love poems can be an addition to a gift or it can stand alone as the main subject. It's been said the quickest route to a man's heart is through his stomach. That may be true, but you have to use your words to trap him first. So why not take this moment to snare his heart with powerful emotional connecting poetic words as a gift from you. Not only that, You get free instant access to a powerful hi-def image producing e-card creator that's totally interactive. You get to text a message as long as you like. You get to choose from a set of stunning pre loaded images to build your card or you can upload your own, and to put it over the top, you get to add your own audio as well.
That's right! You can send your cutie their favorite song, your favorite song or just send a personally recorded message created by you. Just take a look at the snap shot of this show stopper and be amazed at this opportunity. Not even the paid subscription e-card sites give you this much control over your message.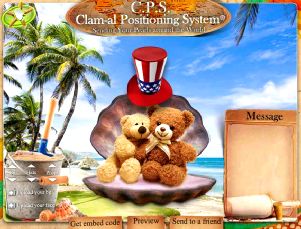 Once you place your order, you'll get immediate access to begin sending personalized messages to all the cherished people in your life. Practically every part of the ecard can be edited. The background, the hat can be removed, the bears. The clam stays as a clever piece to display your personal image like the precious pearl it is. Act fast. This is a limited time offer. Others are paying for the use of this game changing program. You get to use it for free just for letting me help you create an unforgettable moment for the object of your desire.
Just click on the poem gift creation button below and choose your type of romantic poem presentation and get ready to be blown away with the finished product. Remember. You can edit my poems to fit your need or if you have your own or want me to create one for you just make the purchase and let me know if the instructions box what you want.
Love Poem (Hiding Place)
As I go through this life at a frenzied pace,
It's clear why we call it the human race,
We run to and fro with deadlines and goals,
With rarely a chance to rest our poor souls,
When concerns of the day I can no longer face,
I seek peaceful refuge in my hiding place,
It calms my mind and stops all alarms,
This place of refreshing is in your safe arms.
A flowing love feast is set right before me,
energized by joy you always restore me.
Engulfing your essence my stress starts to cease,
your love is displayed as main course and centerpiece.
While others chase dreams and go about with much care,
I'll seek this retreat as long as you're there.
I love you, Name Goes Here